Dying Ashes
Dead Girl's Ashes

is the first book in 

Annathesa Nikola Darksbane's Dying Ashes series

, a chilling dark Urban Fantasy featuring a sardonic lesbian dead girl. If you like

The Dresden Files

,

The Daniel Faust series

, or gripping, dark urban fantasy with realistic representation and diversity, this is the series for you!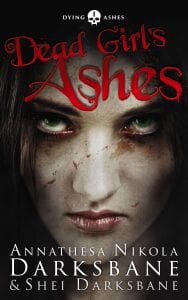 "I think the author did an amazing job pulling me into Ashes world."
Kindle Customer
"Looking forward to the next book and a long series."
Kindle Customer
"They say nothing hurts like losing the one you love, not even death. But having endured both, I found that death came pretty close. Or, at least, mine did."

What happens when you die?
For Ashley Currigan it means waking up, opening her eyes, and discovering who she really is. But it's not a painless process. Not when the person she loves most in the world goes missing. Not when a myriad of supernaturals want her dead, and she doesn't even know why. Not when the very monsters who gave her eternal life want to take it away. And not when her only allies are a human wizard who hates monsters, and a vampire that's at least as much of a monster as she is.
And with dozens of innocent lives hanging in the balance, does she choose to save her humanity and fail, or give in to monstrosity and save them?
And in the end is there a difference?
Step into Ashes' world today!