Hide your families, hide your friends, here come the deals.
More seriously, since we kinda-sorta-not really work for Amazon, when I became aware of a few things of interest, I thought I'd pass them on. (disclaimer, we get money for this too)
If nothing else, maybe it will help distract you from a day of dry turkey and arguing with Uncle Elmo over who the worst president of all time is, and why certain subsets of people don't deserve rights but do deserve guns. 
What? Isn't that what everyone's Turkey Day is like?
Anyways, I saw this sale, and figured I'd pass it on: 
Three whole months of Kindle Unlimited for $1. That's about 96% off, all the books you can eat for three freaking months. 


And in case you didn't know, you don't have to have an e-reader to take advantage of that. Amazon has a free app that lets you read ebooks on pretty much everything that exists, meaning that you can read about 1-2 million free books over the next three months on any device you like, assuming you're some sort of robot capable of that amazing feat.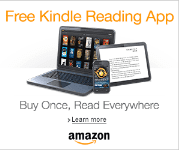 Also, not everyone seems to know that we authors get paid for the Kindle Unlimited books. We do. In fact, with a good length book, we may get paid more and ranked higher than if you simply bought it…though we certainly won't complain if you buy it to keep too. :] 
(And leave a review….please? They're more valuable than actual sales, and surprisingly harder to come by.)
We've posted some more Black Friday deals below from Amazon to help you guys find the good stuff. We especially like the cheap e-readers (that Paperwhite is amazing. This is what Shei reads on. Anna likes the Fire Tablet which is amazingly cheap right now too.) and Kindle Unlimited trial above! Plus the two free audiobooks one. That's two free books you can read…with your ears.
And remember, we get money for all of those (and anything you buy while on Amazon after using one of our links). So go buy discounted stuff. 😛
★·.·´¯`·.·★And now for something completely different: updates. ★·.·´¯`·.·★
I realize I've been silent for a while on here, and it's because I've been busy. Busy on the fifth Ashes book, to be precise. :]
That's right, it's coming, and coming soon. Partially, it's because I wanna make up for going so long without a release, and partially because I wanted to. I was originally going to finish another book project first…but the more I worked on it, the more I realized I wanted to write and get this book out first. So here it is, about 33% done. I wanted it done during NaNoWriMo, but it's not looking too bright, because life issues. I still have hope, though, it'll just be a lot of work. If not this month, then hopefully early next month, barring impending disaster. 
I hope you're excited. I sure am.
Past that will be my next project, which is already mostly completed, and my wifey is hard at work getting the fourth and long awaited Dakota book completed for early next year. There's ofc more (and more variety) on the menu past that, but I'll leave it at that for now. 
So happy hunk of turkey day to everyone. Don't suffer too much, and happy reading!