Ready for more Dakota?
Hunted is now available at Amazon.com and Kindle Unlimited!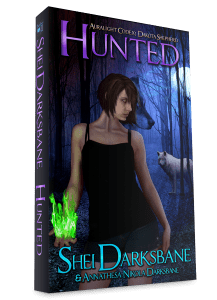 Dakota Shepherd is such a newb: newly Awakened, rookie werewolf, supernatural investigator in training. Her command of the wolf inside is shaky at best, and her grasp of the unstable magic she wields is worse. She sure has a lot to learn about her new life in the supernatural world.
So why would anyone want to stalk her?
A trespasser in pack territory. Blood on the mountain. An urban legend, spoken only in whispers.
Can Dakota rise to the challenge of a deadly foe?
There's no shame in being new: everyone starts out that way. But in a world of powerful supernatural threats, being a newb could get a girl killed. And if Dakota isn't up to the job of protecting herself, how can she hope to protect her loved ones from the ancient supernatural killer that hunts them?
Get it now! Exclusively on Amazon.com!
Kindle Unlimited Subscribers can read for free!
Amazon Prime members can also read for free via the Kindle Owners Lending Library.
Try Amazon Prime 30-Day Free Trial
Don't have a Kindle? We've got you covered!
You can still read Kindle books on the FREE Kindle Reading App on Most Devices (Even your PC!)
And you can even add Hunted to your "To-Read" shelf on Goodreads.com!
Thank you so much for supporting us! We hope you enjoy every minute!