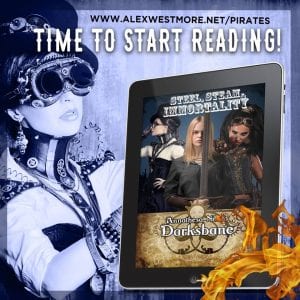 Steel & Steam
Steel & Steam is a Steampunk-styled fantasy series by Annathesa Nikola Darksbane, written for the first ever LGBT Kindle World. Steel & Steam is being written as a series of novellas, two of which are available for purchase now, exclusively on Amazon.com. Pick up a piece of LGBT history today, starting with Steel, Steam, & Immortality!
"Captivating."
Kindle Customer
"A great read…waiting for more."
"Jone wasn't alive. Well, Jone wasn't alive anymore."
In a world where man has stolen the power of the gods, a young woman comes back to life to find that the oldest of crimes never dies, and is never forgiven.
Jonelise reawakens to a foreign, yet familiar world with one goal burning inside her.
Now if only she knew what it was.
Her determination will guide her along a treacherous path confounded by the threat of pirates, superstition, and the pervasive rule of a distant empire. Can she recover her lost sense of self and redefine her own identity while fate pushes her headlong into a conflict with a mass murderer—and a fight she already fought years ago and lost?
Jonelise has only one chance to rewrite her destiny, and that hope lies in the friends she makes along the way. That is, if she can even trust her own allies, one of whom may not even be real and all of whom have something to hide…
Join Jone's Journey!